The Designer's Corner by Ecological Fibers
The Ecological Fibers team is well aware of the unprecedented times that we are currently undergoing. Many of us are left to tread unfamiliar waters as we begin the transition into working out of unfamiliar locations.
Being stuck without the tools that we have grown to rely on can make work undeniably difficult. Especially for the designers and artists who work closely with others to complete projects in the industries that we here at Ecological Fibers so often supply.
We want you to know that we are here to help.
Through the incorporation of groundbreaking new design tools, and an open ear ready to hear any suggestions that you may have for us moving forward, it is our mission to provide you with the best possible customer experience through these unprecedented times.
With that, we are proud to introduce The Designer's Corner, from Ecological Fibers!


From our team of industry experts standing by to help guide you through every step of the production process, to our growing list of design tools, we are here to help take the guesswork out of your work.
In an industry that is driven by the visual, we would never want our customers to design in the dark. Swatch books and hand samples are essential tools in the design process, but we are aware that many of you are currently forced to work with limited supplies. So we wanted to bring our books straight to you.
Now, with our free Adobe® Swatch Download Tool and downloadable embossing patterns, you can take the amenities of the office wherever you go.
Whether you're working from home, or you just want to see our paper on your screen, our Designer's Corner is here to help.
Adobe® Swatch Download Tool 
Take each of our colors on the go and be sure that your designs will look as great in real life as they do on the screen. 
Easily Integrate each of our environmentally responsible cover materials directly into your Adobe® software. Download RGB Adobe® Swatches of our stocked colors directly into Photoshop®, InDesign®, Illustrator® and more from our Designer's Corner, or directly from our Adobe® Swatch Download Page. Each swatch has been scanned, calibrated, and is organized by product and color for your convenience.
These swatch files will be regularly updated with new colors and options when available.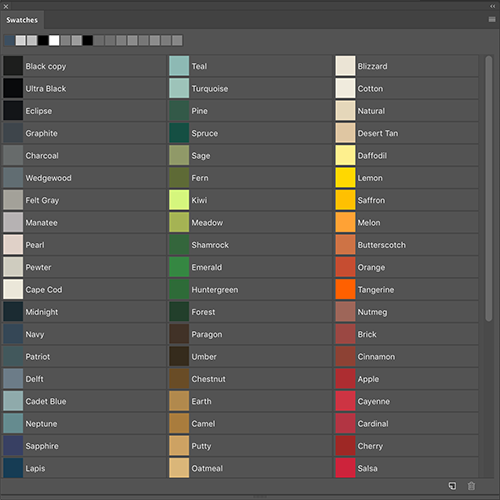 Your design looks great, but how would it look with one of our signature embossings? Find out for yourself by downloading our textures to find the perfect pattern for your next project.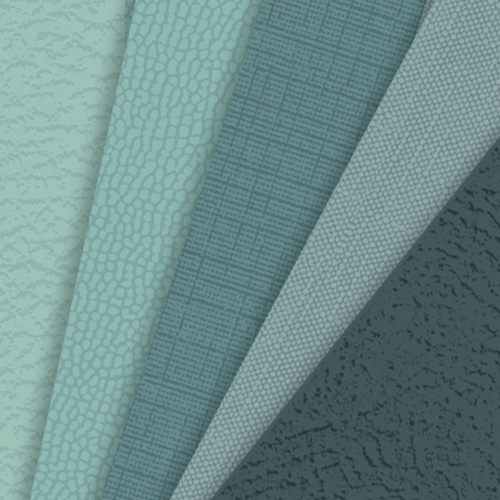 Quickly scroll through some of our most popular embossings on our new Embossing Sample Downloads page. See one you like? Simply "save as .png" and load the texture into your favorite design software to insert a semi-transparent embossing layer directly on top of your ongoing project.
Each graphic is a 6x9in grayscale transparent png file that can be added as a layer in your design software to help create a realistic mock-up for your project. These scans are intended as references only. Please visit the individual product pages for a list of approved embossing patterns for that specific product.
Find our products faster and easier than ever with our NEW product browsing options.
Product Browser
Sometimes projects call for specific attributes like weight, coating, or roll width. Our new product search feature allows you to filter your possibilities through various criteria, helping you pinpoint the perfect material for your next project.
Sort by Project
Looking for a material to suit a particular project? Check out our "Products by Project" page to see all of our materials as they apply to specific industries. Designing a book, box, Bible or something else? Check out the capabilities of each of our products and find the perfect material for your next finished piece.
Sort by Type
Easily browse our products by type. Our coated, uncoated, flocked, woven fabrics, PU, bonded leather and bindery materials are at your fingertips. No matter what product you're looking for, Ecological Fibers has got you covered.
What Else Can We Do To Help?
Is there anything else that we can do to help your transition to working from home? Or are there any other tools that we can put together to make the design process easier for you? We are here to help and would like to hear from you! Please reach out to Ryan Flynn, our Marketing manager who has over 15 years of experience in graphic design at rflynn@ecofibers.com or (978) 537-0003 x107.
Designer's Corner Newsletter
If you want to hear the latest news specifically geared for designers, sign up for our designer mailing list. See how others are using our products, get updated color swatches, new embossings, tips and more!
Sign up today!