For privacy reasons Vimeo needs your permission to be loaded. For more details, please see our
PRIVACY/ LEGAL
.
I Accept
Stephen Quill founded Ecological Fibers in 1972 as a domestic distributor of binders' board and book construction materials. From there, production quickly grew to include our now signature line of FSC® certified dyed-through Rainbow® colored Kraft papers. Flexibility and innovation have since helped propel us to the status as the global leader in the environmentally-sound manufacturing of covering materials and design solutions.
In 1979, Ecological Fibers expanded from a sole facility in Lunenburg, Massachusetts, to Pawtucket, Rhode Island, through the acquisition of the Narragansett Coated Paper Corporation. There, we began adding new lines of coated products to the repertoire. Before this was made possible, however, owner Stephen Quill prioritized the health and safety of his employees, customers, and the planet.
In a time when environmental standards were considered a novel idea, our owner saw first-hand the undesirable conditions resulting from the coating process. He vowed that the only way Ecological Fibers would proceed with operations would be to do so clean or not do so at all. Working to create the highest quality material in the safest way possible meant inventing revolutionary water-based coatings that do not contain hazardous solvents. To do so was no easy feat, but because of our proven success, the entire industry followed suit, changing the way coated papers were created and stopping incalculable amounts of chemicals from being used.
Nobody attempted to do what we set out to accomplish back in 1979. Still, through trials and tribulations, persistence, patience, and the tireless efforts of those working behind the scenes to develop these aqueous coatings, we have since managed to create the highest quality water-based, solvent-free cover materials in the world, all without losing track of our bottom line the health and safety of our employees, customers, and the environment.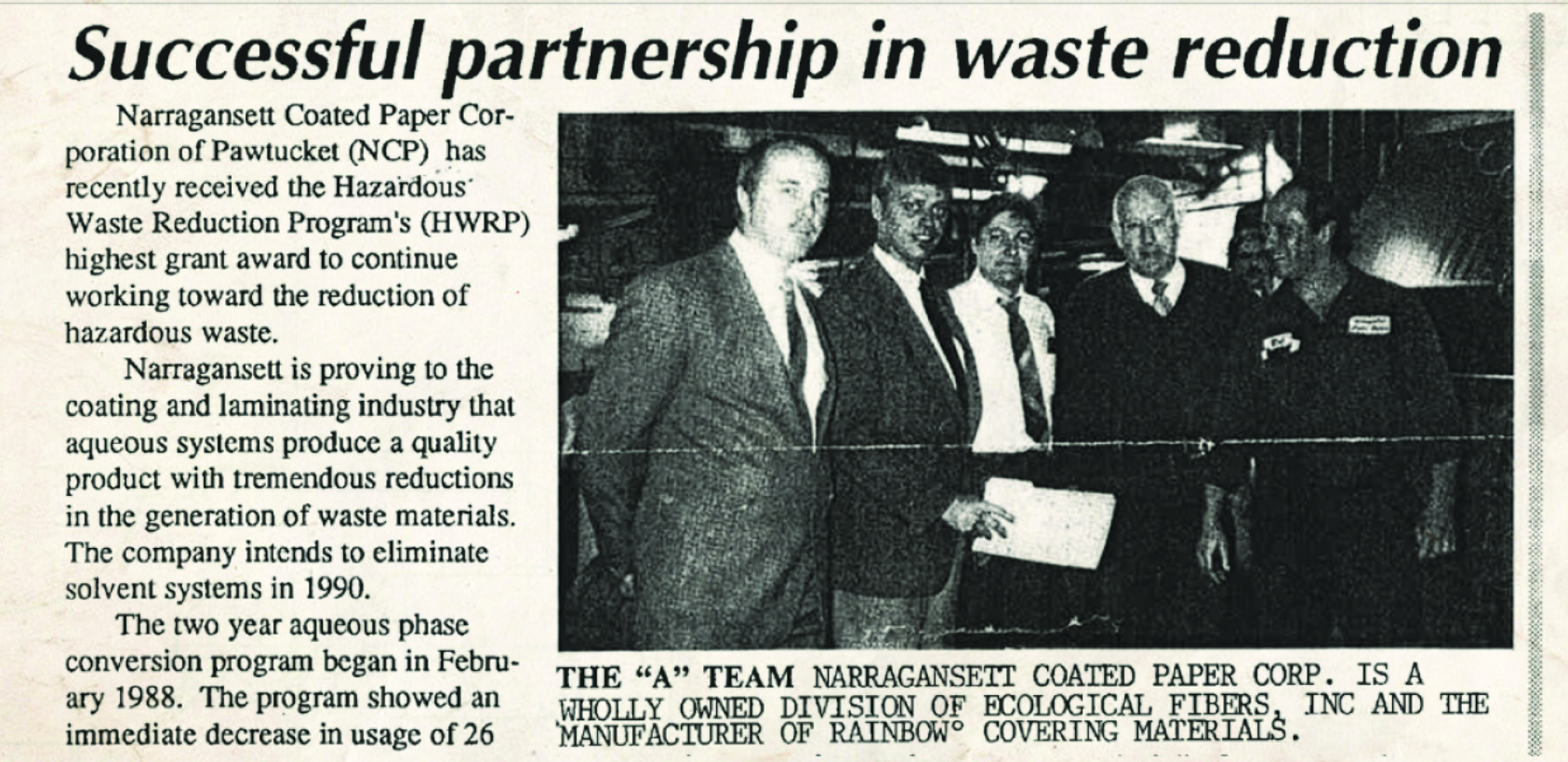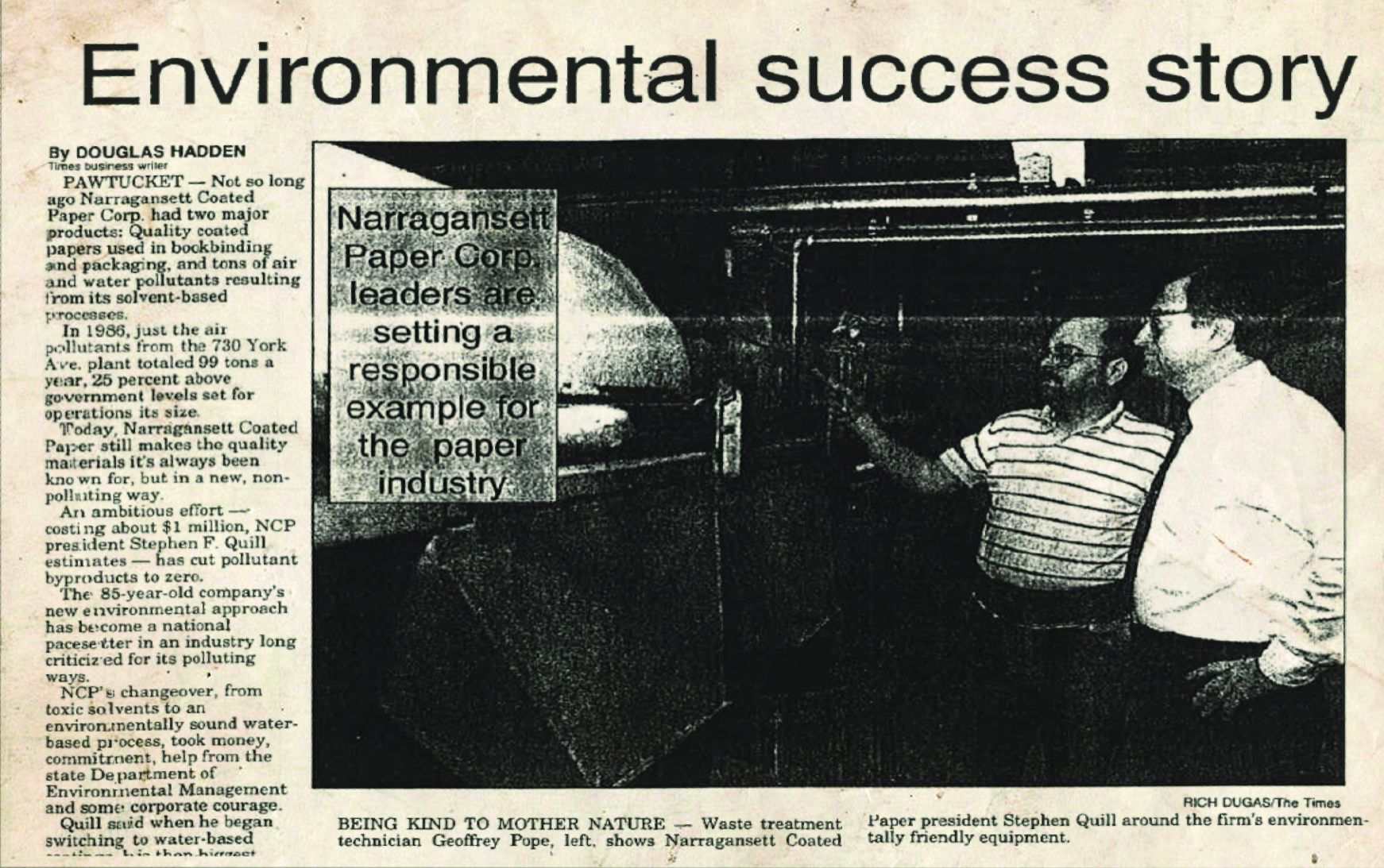 "When you take ownership of a business you also take ownership of its history. You must do your due diligence and ask what was this before? Stephen Quill invested a lot of time into finding out what kind of plant he bought."
–Michael O'Keefe, Technical and Environmental Compliance Manager
THE ECOLOGICAL DIFFERENCE
We continue to work towards developing revolutionary ecological manufacturing practices in order to meet new levels of environmental stewardship. These goals are unobtainable with the incorporation of hazardous solvents still found in the materials and procedures used by other manufacturers around the world.
In 1990, we achieved optimal production as a 100% environmentally clean coating operation. For reaching this goal, we were honored with an EPA award, Earth Day Certificate, and are recognized by the Federal Government as an innovative supplier of solvent-free covering materials. To date, we are one of the only manufacturers in the industry that are able to operate free of any EPA oversight.
On Earth Day, 2021 we took the next great leap in sustainable covering products by becoming not only the first company to produce a 100% Plastic Free coating, but a 100% Organic one to boot. Many people said it was impossible, but our chemists took on the challenge and succeeded by producing our new Rainbow® 3 Plastic Free and Ultima™ Libre materials.
Our product may be just a piece of a much larger finished project, but it is the first thing your customer sees, and it is the first thing your customer feels. Choose the material that displays the quality, history and passion that your brand deserves. It's time to start taking pride in your paper.
FINANCIAL STRENGTH AND OBJECTIVES
Since inception, we have continued to expand our operational facilities while remaining profitable and financially stable.
Our pillars of Finance, Manufacturing, and Sales have enabled us to remain consistent while continually maintaining the following objectives: