Efficiency and Reliability From Start to Finish
Since our founding, it has been our mission to provide a source of reliability to our loyal customers. With so much uncertainty in the world right now, we know the importance of dependability. We want to provide one less thing for you to have to worry about through these turbulent times. That is why our goal will be to continue providing you with the best, most consistent customer service in the industry.
Our Foundation in Publishing
In 1972, Stephen Quill created Ecological Fibers to supply binders' board and book manufacturing materials to the publishing industries. There, we quickly grew to incorporate our now signature line of Rainbow® Kraft cover materials which helped us become the primary distributor of book cover materials in the United States.
Our start in publishing has provided us the opportunity to succeed in living up to the most strict and demanding lead times that can be found in our industry. Success in this field has been driven by consistency and reliability through our accumulation of inventoried material ready to be shipped around the globe with minimal delay.
From the start, Ecological Fibers has strived towards maintaining consistent standards across a number of fields in order to ensure customer needs and deadlines are met. The rigid deadlines required of supplying the top publishing companies in the world helped drive Ecological's standards for lead times and customer service to the forefront of the industry.
From Publishing to Packaging… and Everything In Between

More recently, we have ventured outside of the realm of the publishing community to provide our materials to such industries as the packaging, label and security document fields.
As Ecological grew to begin supplying fields outside of publishing, that promise to maintain exceptionally prompt service remained unwavering.
We have vowed to bring with us our original lead time standards which can typically be found only in the publishing industry. This prompt delivery and service was a groundbreaking development to the luxury packaging community, and has helped revolutionize box manufacturing from the ground up.
Maintaining our Standards Through Growth
In order to continue our pledge of providing the best possible lead times, the consistent growth of our facilities is essential. In 2018, our Massachusetts location underwent a 75,000 sq/ft expansion. This recent enhancement to our storage facilities helps ensure a more efficient and time effective distribution of products to customers all over the world.
Each of our Rainbow® 70 and 80 colors, as well as many of our coated, uncoated, textile, PU and flocked materials are stored and ready to ship at a moment's notice out of our Massachusetts and Rhode Island locations. This abundance of stock material enables us to continue providing an excellent customer experience from start to finish.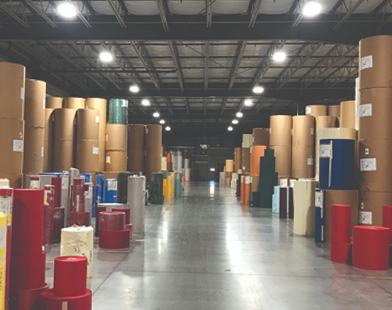 On top of our 75,000 sq/ft expansion, within the last few years, we have expanded to include:
4 new sheeting lines
Additional endleaf machines
10+ new embossing machines
3 new embossing patterns
Upgraded power capacity
Reorganized CSR's to continue industry leading customer service
Expanded domestic and international sales team
"I've been here for 20 years. Since then, the Massachusetts plant has doubled in size, and the plant in Rhode Island has increased about 50 percent. We've come a long way."
-Dave Robbins, Senior Vice President of Sales-
Above all else, Ecological Fibers will always be a family company striving to do what it takes to provide the best customer experience possible for all industries. We are here to provide all of our clients the service that they deserve, not just the service that they expect. Whether that means bringing our expertise and shortened lead times that we have grown accustomed to out of the publishing market into the packaging industry, or expanding our facilities to be able to accommodate for larger orders, Ecological Fibers has got you covered. 
Through our 48 year history, we have endured a number of global and domestic hardships ranging from financial, to personal. We have, and will continue to remain profitable, stable, fully-owned, and debt-free. We will continue to invest in our manufacturing operations and in our process control and technology, as well as continue to make investments in raw materials, resources, and finished goods inventory.
Ecological Fibers is more than prepared to continue providing you industry leading customer service and state of the art lead times. From our uncoated Kraft, to our coated paper and everything in between, we are here for you through these unprecedented times with stability and reliability because we always have been, and we always will be. Please contact your dedicated sales rep today to see how Ecological can help you.